Sameday Express Business Cards Printing and Delivery Service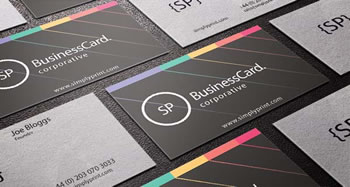 Latest Customer Review (Express Business Cards)

Published by B Matthews, Chatham
"Ordered: same day business cards.
Perfect quality business cards received this morning. "
More customer reviews
Same Day Business Cards printing, delivered today
At SimplyPrint, we understand that you may need your business cards in a hurry. This could be due to a last minute meeting, a conference that you have to suddenly attend - or as simple as just realising you have run out of your existing business cards.
Our express business card printing service is fast and we use the same high end printing presses as used to print standard orders. This ensures that we do not make any compromises on quality. All you are paying extra for is the speed to get your business cards dispatched to you the same day or within 24 hours. If you are in or near London, you can receive your business cards the same day - with most of the UK receiving their business cards the next day.
Same day printing or next day printing
We offer several express business card printing services, depending on whether you need to receive your business cards (including our 400gsm Matt Laminated business cards) today, tomorrow or the day after. With 50 business cards starting from just £25 including delivery we make sure you receive high quality business cards without breaking the bank!
Order now
To find out how much your express business cards will cost, please give us a call on 020 3070 3033 or email
sales@simplyprint.com
with your requirements.
How we will handle your order
When you call, we will give you a quote and deadlines so that we can dispatch your business card order on time. If you are happy with this, we will do the following:
We will take your business card designs (even if they are not finished) and check them. If there are any problems, our fully qualified design team will assist you in resolving the problems (even if it involves recreating parts of the business card artwork). Our priority is to make sure that your business cards order prints well.
We will then email you a business card proof to check and phone you to let you know your proof has been emailed.
Once approved, we will print your order using either the same day or next day business cards service.
Alternatively, if your business card artwork is print ready, we can put it straight on to the print run.
All business card orders are dispatched by a next working day courier. If you are based in or near London and you need to receive them the same day as we print them, then orders will be biked to you.
The Money Back Guarantee - made simple
When you order an express service from us, we guarantee to dispatch your order when we have agreed.
If we dispatch it late resulting in you not receiving your business cards on time, then you keep the product and receive a full refund.
I don't need my business cards that fast!
If you don't need to receive your business cards that quickly, then visit our
homepage
where you can get them cheaper.